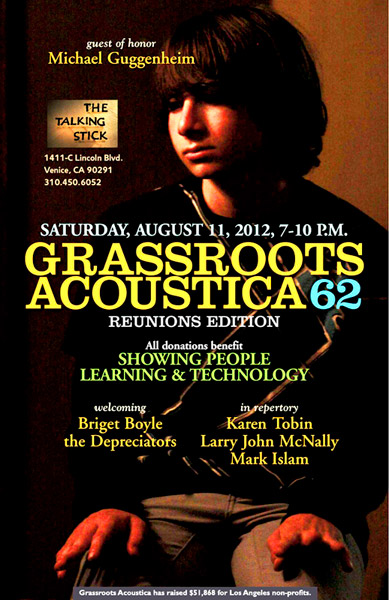 Guest of honor Michael Guggenheim has been tutoring children in homeless shelters since he was 11 years old, and through the organization that he founded 5 years ago, Showing People Learning & Technology, he provides functioning donated laptops to families leaving facilities for homes of their own. He has also been honored by the International Dyslexia Society, and has been profiled on CNN, GOOD MORNING AMERICA and LOS ANGELES TIMES.

CAN'T ATTEND?
100% of all contributions benefit
SPLAT. Contributions are tax-duductible.

If you'd like to donate by check for
SPLAT, please make
it out to Grassroots Acoustica Foundation
with a reference to SPLAT in
the memo field and mail to:
Grassroots Acoustica Foundation
12405 Venice Blvd #334
Mar Vista, CA 90066
All gratefully appreciated donations
are tax-deductible.





Register your Ralph's Rewards Card and Grassroots Acoustica Foundation receives a donation every time you swipe your card!
LEARN MORE