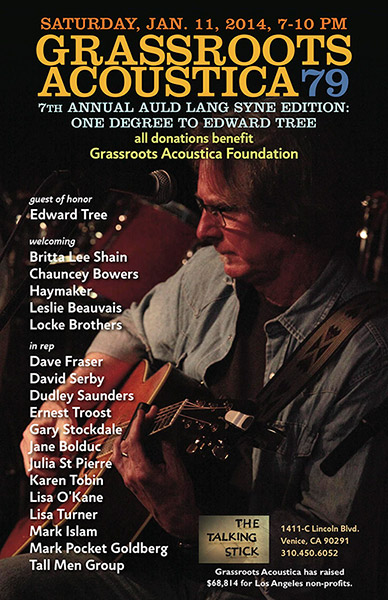 Register your Ralph's Rewards Card and Grassroots Acoustica Foundation receives a donation every time you swipe your card



Grassroots Acoustica begins each new year with intention of bringing our tribe together to celebrate our friendship with Edward Tree, songwriter, guitar player, producer, & proponent of a strong songwriters' scene in Los Angeles. This 7th annual revue supports another proponent of a vibrant writers' scene, Grassroots Acoustica Foundation, which wants to grow & present additional programming around charitable purposes.

If you'd like to donate by check for


Mattel Children's Hospital

please make it out to Grassroots Acoustica Foundation with a reference to

Nicolette Larson in

the memo field and mail to:
Grassroots Acoustica Foundation
12405 Venice Blvd #334
Mar Vista, CA 90066

All gratefully appreciated donations
are tax-deductible.