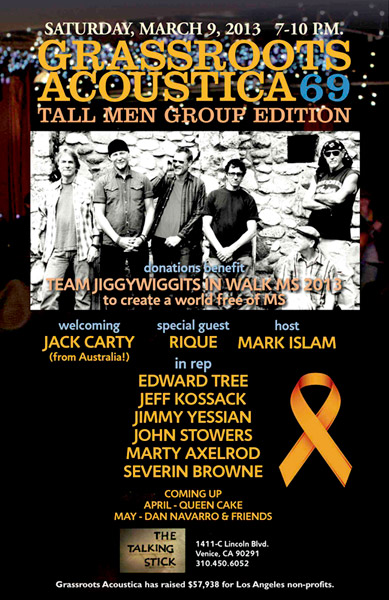 CAN'T ATTEND?
Contributions to Saturday night's Grassroots Acoustica sponsorTeam JiggyWiggits in the
upcoming MS Walk 2013 & support cutting edge research, education, advocacy & local
programs that enhance the lives of people with multiple sclerosis & their families. Recognized as a top fundraising team, JiggyWiggits
have raised over $130,000 since 2007 to help get closer to a cure for those affected by MS.

If you're unable to join us for
Saturday's Tall Men Group Edition, please consider supporting our cause with a tax-deductible donation. No amount is too small or large -- and it all adds up!

If you'd like to donate by check for
The Jiggy Wiggits MS Walk 2013, please make it out to Grassroots Acoustica Foundation with a reference to MSWALK 2013 in
the memo field and mail to:
Grassroots Acoustica Foundation
12405 Venice Blvd #334
Mar Vista, CA 90066
All gratefully appreciated donations
are tax-deductible.



JIMMY YESSIAN
JOHN STOWERS
MARTY AXELROD