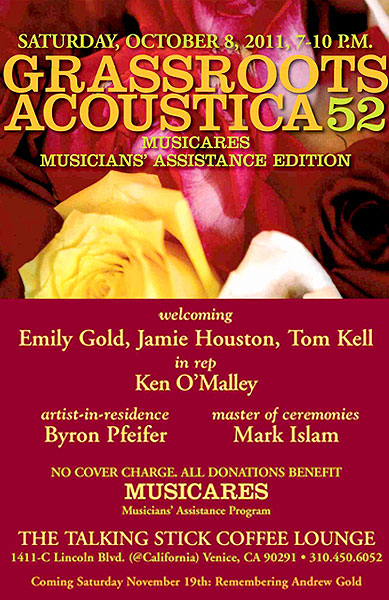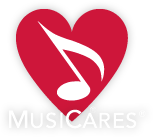 Can't attend? All online donations will be contributed to Saturday's MusiCares' Musicians' Assistance Edition collection plate. Even small amounts matter.

Register your Ralph's Rewards Card and Grassroots Acoustica Foundation receives a donation every time you swipe your card!
LEARN MORE
UPCOMING SHOWS





Saturday, November 12, 2011, 7-10 p.m.


SHANE'S INSPIRATION EDITION
Featuring: Amilia K. Spicer, Jeff Kossack, Jimmy Yessian,
John Stowers, Severin Browne
Benefitting: Shane's Inspiration



Saturday, November 19, 2011 - START TIME & LINEUP TBA


GRASSROOTS ICONICA: REMEMBERING ANDREW GOLD


[1951-2011] - The What's Wrong With This Picture Edition


Benefitting: All of the Grassroots Acoustica Non-Profit Charities



Saturday, December 10, 2011, 7-10 p.m.


5th ANNUAL TRIBUTE TO NICOLETTE LARSON [1952-1997]
Special Guest: Elsie May Larson-Kunkel
Benefitting: Nicolette Larson Pediatric Endowment
at Mattel Children's Hospital/UCLA



Saturday, January 14, 2012, 7-10 p.m.


5th ANNUAL ED TREE SHOW
Special Guest: Edward Tree
Benefitting: Tree People
Since last year,
THE LINDA RONSTADT
HOME PAGE
an unofficial fan page, has been donating all of its CDUniverse referall fees to Grassroots Acoustica Foundation - over $300. Thank you, Tony Partridge for the generosity & for supporting our causes.