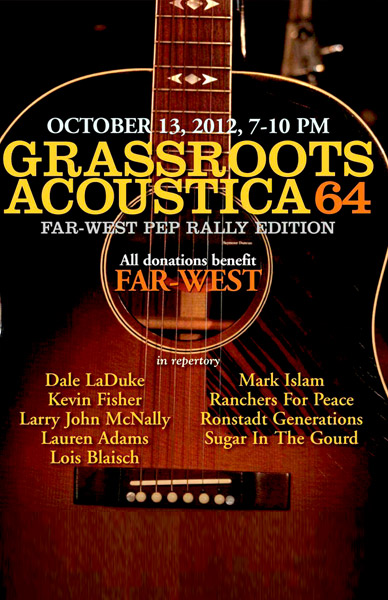 CAN'T ATTEND?
FAR-West is the west coast region of Folk Alliance International, which fosters & promotes traditional, contemporary & multicultural folk music, dance & related arts, & strengthens folk & acoustic communities and networks in the western states. The organization is run entirely by volunteers; there are no paid staffers.

If you'd like to donate by check for
FAR-WEST, please make
it out to Grassroots Acoustica Foundation
with a reference to FAR-WEST in
the memo field and mail to:
Grassroots Acoustica Foundation
12405 Venice Blvd #334
Mar Vista, CA 90066
All gratefully appreciated donations
are tax-deductible.



Register your Ralph's Rewards Card and Grassroots Acoustica Foundation receives a donation every time you swipe your card!
LEARN MORE