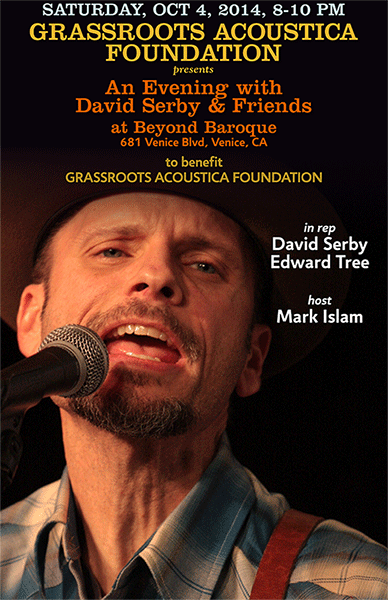 Register your Ralph's Rewards Card and Grassroots Acoustica Foundation receives a donation every time you swipe your card



On Saturday night we present an evening with one of the area's finest performing songwriters in an intimate theater setting, Beyond Baroque. A longtime friend of Grassroots Acoustica since his first appearance with us in 2008, David Serby is a favorite in roots & Americana circles, & he'll be assembling a lineup to help Grassroots Acoustica Foundation raise much-needed funds to cover annual administrative costs coming due from now until the end of the year -- things such as a mailbox, web hosting fees, & a few other modest expenses. We invite all Grassroots Acoustica fans & supporters to join us in Venice. And if you're unable to attend, we welcome contributions of any size.


If you'd like to donate by check for
Grassroots Acoustica Foundation please make it
out to Grassroots Acoustica Foundation with a reference to GRA
in the memo field and mail to:
Grassroots Acoustica Foundation
12405 Venice Blvd #334
Mar Vista, CA 90066
All gratefully appreciated donations
are tax-deductible.